Dr Denise Tiran HonDUniv FRCM, is an international authority on midwifery complementary therapies.
Watch our video and read Denise's blog for all the latest on complementary therapies and maternity care.
Find us on Facebook
Connect on LinkedIn
Old Books For New:
Published : 19/05/2022
Denise has been seeing a lot of posts on Social media recently from students offering their used midwifery textbooks for sale at the end of their training. Here she explores the issues around academic reading and keeping up to date.
It's that time of year when students are coming towards the end of their three year pre-registration midwifery programmes – and when those about to start midwifery training excitedly start preparing. Part of this preparation is thinking about which textbooks to buy. The two traditional UK midwifery texts are Myles' Textbook for Midwifery and Mayes' Midwifery, to both of which I have contributed chapters on complementary therapies on many occasions over the various editions. Another staple is Bailliere's Midwives' Dictionary, which I have edited every three years since 1997 and have just finished the 14th edition (Tiran, Redford 2022). However, there is such huge diversity within the modern midwifery profession, including obstetrics, physiology, psychology, sociology, research methods, obstetric emergencies and many contemporary issues, that there is a dizzying selection of textbooks, some of which cost up to £50 or more.
It is therefore understandable that students who have purchased their own copies may want to sell them on to incoming students. However, I am concerned that some books posted for sale on social media are extremely old and have been replaced with more recent editions. I recently saw a copy of the 11th edition of the Bailliere's Midwives' Dictionary (2009) for sale at £10, only marginally less than the latest edition which contains many new terms and more socially acceptable definitions. Another student was selling a 2011 copy of Obstetrics by Ten Teachers, despite it having been updated six years later. Some of the books are so old that they could be kept as historical texts - and prove very interesting to compare practice years ago with how it has evolved today.
However, whilst some books remain useful for new learners, many become out of date quickly. Remember that a newly published book is often already 18 months old or more by the time it is available for sale, since the writing of it and the publication process take considerable time. My advice to incoming student midwives (despite being an author wanting you to buy my books!) is just to buy one recent comprehensive textbook (either Myles' or Mayes') and the dictionary – and then wait to see what is available in the university library. You may develop an interest in a specific aspect of midwifery such as breast feeding, genital mutilation, genetics or complementary therapies, in which case you can look for the most recent academic textbooks on those specialisms. You could consider sharing books with a group of colleagues to enable you all to access both general midwifery and specialist texts. You could ask for Christmas or birthday presents for those you feel you would like to own. You may find cheaper versions of some books as digital copies. Bear in mind that many of the books you purchase for your own course will be out of date by the time you qualify and may not, therefore, be suitable for students coming along after you.
Books are wonderful, especially when you own a pristine hard copy, but it is essential to keep up to date. Not only could you lose assignment marks by referring to an old edition, it could also mean you are not up to date in your practice.
If you are lucky enough to own a previous edition, especially one that is more than 20 years old, keep it for posterity, but make sure your theory and practice are based on the most up to date editions.
---
Borage Explained
Published : 09/05/2022
The beautiful blue flowers are sometimes added to cocktails. More importantly, borage contains significantly more gamma linolenic acids, one of the primary therapeutic constituents, than evening primrose oil.
Both EPO and borage are traditional remedies to start labour although evidence for effectiveness is limited.
Care should be taken with borage as it can cause liver toxicity in some.
---
Z is for ZuSanLi
Published : 08/05/2022
Z is for ZuSanLi, an acupuncture point also called Stomach 36. It is situated about four finger-widths below the bottom edge of the kneecap, between the two bones of the lower leg. In pregnancy it can relieve nausea, constipation, carpal tunnel syndrome, anxiety and aid birth preparation. It is useful for aiding progress in labour and postnatal recovery. Stomach 36 is one of the 15 points taught on Expectancy's Certificate in Midwifery Acupuncture programme – we are now recruiting for September.
---
Y is for ylang ylang
Published : 07/05/2022
Y is for ylang ylang, (Cananga odorata), a wonderfully relaxing essential oil that is safe to use in pregnancy and birth. It can have strong sedative effects so should not be used for too long, and midwives caring for parents in labour who wish to use it should take regular breaks and keep hydrated to ensure they are alert enough to make clinical decisions (and drive).
It is very good for postnatal blues but caution is urged if there is a history of diagnosed clinical depression, as the effects can be so deep that the emotions can almost be pushed inwards, compounding the problem. The aroma is deep and floral but can be heavy and cloying for some people so use in small doses and for short periods of time.
In the home, ylang ylang should not be used near neonates, elderly relatives or animals (it is toxic to cats and dogs).
---
X is for X-rays
Published : 27/04/2022
X is for X-rays – one of the sources of energy that can inactivate homeopathic remedies. Since homeopathic medicines are chemically very fragile, they can be easily inactivated by X-rays, mobile 'phones, televisions and microwaves. Never store your homeopathic arnica and other remedies near electrical sources in the home – and take care when passing through the airport if you have homeopathic jetlag remedies with you.
---
W is for witch haze
Published : 26/04/2022
W is for witch hazel, a common herbal remedy used for perineal healing after birth. However, witch hazel should not be used on an inflamed or infected wound. It can be useful for haemorrhoids after birth as it has an astringent effect, causing vasoconstriction, although the research evidence is poor. Witch hazel should not be taken orally.
---
V is for Vitex agnus castus
Published : 25/04/2022
V is for Vitex agnus castus - This herbal remedy, also called chaste berry, is a popular remedy for menopausal problems and is also used for infertility treatments. However, it should not be self-administered orally in the preconception period, pregnancy and when breast feeding, unless on the advice of a qualified medical herbalist. There is some suggestion that the plant hormones may compromise implantation of the embryo in early pregnancy. These also increase dopamine activity which blocks the production of prolactin, so it may affect lactation. Topical use of the cream appears safe.
---
Adjust Your Own Oxygen Mask Before Helping Others
Published : 24/04/2022
Denise has been in Glasgow this week for various meetings. Flying from Heathrow, she reflected on the pre-flight safety briefing, including what to do in the event of reduced oxygen in the cabin, and related this to our work as midwives providing care for expectant and birthing parents. She says:

Midwives work incredibly hard in difficult circumstances, with inadequate staffing and long hours, often without time for a break, even a drink or visit to the toilet. Yet how can we expect to care for families if we are not fit, healthy and refreshed ourselves? Midwives become dehydrated, ketotic and exhausted which leaves them in no fit state to care for people. Put this in the context of the institution for which they work, with its dependence on risk avoidance and the pressures of an immensely punitive culture, and the stress on midwives and other maternity care providers is immense..It is hardly surprising that midwives are leaving the NHS in droves.

Isn't it about time we started looking after ourselves first? We need to praise and thank the midwifery workforce, not bully them into being a mechanistic corporate set of hands blindly doing the job. We.need to facilitate midwives and support workers to give mindful care that not only helps service users but also leaves service providers feeling fulfilled and valued.

One NHS trust has recently asked me to provide a series of half day relaxation events for its staff, to thank them for their efforts and to give them something back to show that they are, indeed, valued. Engaging in some rostered "me time", with relaxation to music, massage and time to chat over a cup of tea and cake can do wonders to boost morale. Offering a metaphorical "oxygen mask" goes some.way towards helping midwives and support workers feel appreciated and to revitalise them so they are in a better state to provide quality and caring support to parents and babies.
---
The Business Of Midwifery 
Published : 19/04/2022
Denise recently interviewed a midwife for our Diploma who had just completed a Master's in Business Administration (MBA). Discussion turned to some of the issues plaguing the NHS and her insight into midwives' lack of knowledge of the business of maternity care. Denise reflects on her conversation:
Midwives seem to have little concept of how the NHS works or how much everything costs.
For example, the difference in cost between a spontaneous vaginal birth and a Caesarean section is around £2000; an epidural costs at least £850; even the comparative pennies needed for a urine sample bottle or a pack of gauze swabs add up to a multibillion pound NHS.
A trial was done some years ago in a London surgical ward in which the prices of NHS equipment were listed on cupboard doors. Increased awareness of the nurses led to more mindful use, less wastage and considerable cost savings. I find it fascinating when teaching business studies to the midwives preparing to set up their own private practices via our Licensed Consultancy scheme to hear their views on money - costs, pricing and savings. One midwife recently told me she would be charging just £35 for an hour's complementary therapy treatment in her private practice. This was way below the average price of a pregnancy massage in her area. Further, she had not considered the money she had already spent to get to the point of starting her business - training and experience, NMC registration and revalidation, insurances, equipment and the costs of starting and running her business. She was, in effect, giving her services free of charge - and actually paying to provide them. It is interesting that independent midwives do not have the same reticence talking about their fees as midwives working solely in the NHS.
Asking people to pay for their services is not a problem. Indeed, it is the only way an independent midwife is paid. NHS midwives do not give their time free of charge – so why is there such a negative feeling about asking expectant parents - who have consciously chosen a private option – to pay the fees for services provided? No one would expect to go to the hairdresser or massage therapist without paying for their expert services – so why do we have a mindset that finds talking about "money" distasteful?. I believe that midwifery and all healthcare pre-registration programmes should include a mandatory module on the business of healthcare.
If NHS staff understood how much everything costs, there would be less wastage and savings would contribute to a more balanced use of NHS limited budgets. For midwives going into private practice, it would be wise to study business matters before commencing to avoid costly mistakes – professional and legal as well as financial.
A greater understanding of the business of maternity care would contribute to a more successful business.
---
U is for Uterus
Published : 18/04/2022
U is for uterus. In foot reflexology the point for the uterus is on the inside of the heel. Many people think it's acceptable to massage this area to stimulate contractions, but it's not. Uterine contractions start in the pituitary gland so to aid labour requires stimulation of the reflex points for the anterior and posterior pituitary gland on the side of the big toes. Over-stimulating the uterus reflex points on the heels can disrupt labour physiology and, in extreme circumstances, may even cause placental separation and bleeding.
---
T is for "Therapy shopping"
Published : 17/04/2022
T is for "Therapy shopping". Some people, when desperate to resolve a problem, try every complementary therapy they can find, in what is often called "therapy shopping". It is not helpful to use several different therapies or natural remedies together as this can "confuse" physiology and often make things worse.
Expectant parents desperate to avoid an induction of labour may do this, trying all the herbal remedies they can think of, including clary sage, raspberry leaf, castor oil, as well as eating pineapple, dates and mangoes and consulting a reflexologist, acupuncturist and/or aromatherapist. Midwives and doulas should encourage parents to try just one thing at a time (although don't leave raspberry leaf until term) unless under the direction of a fully qualified practitioner of complementary therapy who can balance the combination safely.
---
S is for Syntocinon
Published : 16/04/2022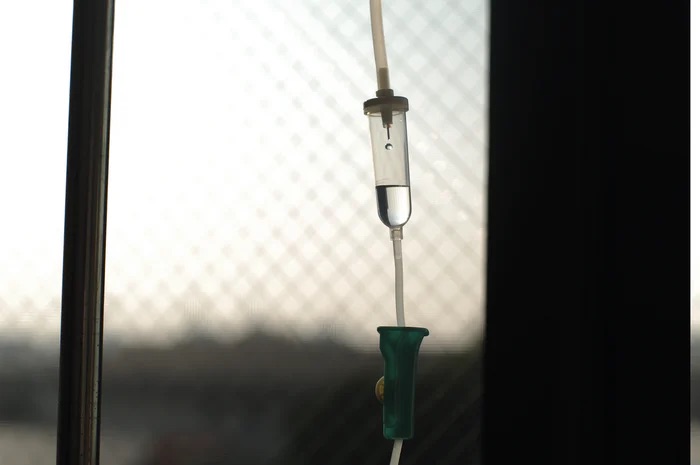 S is fo r syntocinon. If expectant parents need intravenous oxytocin they must not use oils or herbal remedies with similar effects. This includes clary sage, jasmine, rose, cinnamon and nutmeg oils, raspberry leaf, evening primrose, black and cohosh other herbal remedies.
Care should also be taken when vaginal pessaries of prostin are used to start labour especially if the woman is at home.
---
R is for raspberry leaf tea
Published : 13/04/2022
R is for raspberry leaf tea, a popular herbal remedy to time the uterine muscle in readiness for labour. If appropriate, it can be taken during the third trimester, gradually increasing to about 3-4 cups a day, then gradually reduced in the first two weeks after the birth. Raspberry leaf is not a means of starting labour - suddenly commencing it at term may lead to excessive contractions and possibly fetal distress.
---
Q is for quiet
Published : 12/04/2022
Q is for quiet. Never underestimate the value of silence during a birth or when providing complementary therapies in pregnancy or after the birth. Music can be useful sometimes but there's a lot of psychology relating to using the right type of music. Quiet allows the birthing family to go into their own zone, to tune out the extraneous noises of the world and to focus inwardly in preparation for their new arrival.
---
P is for the Pericardium
Published : 11/04/2022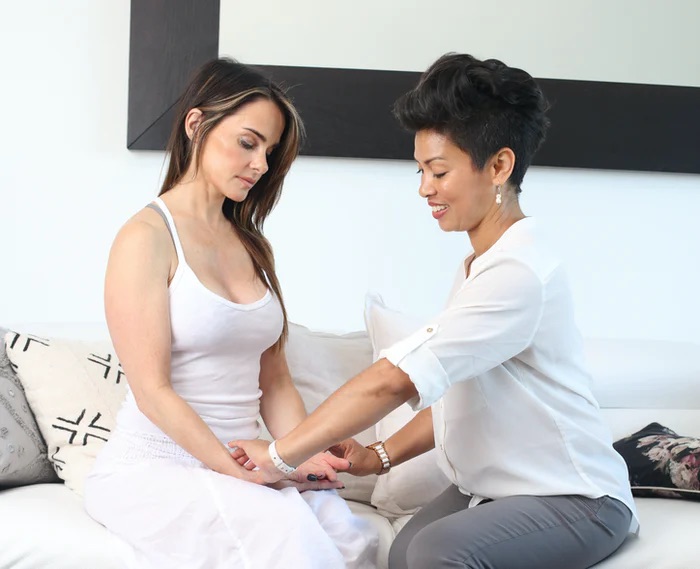 P is for the Pericardium 6 (P6) acupuncture point, which is a useful point to combat nausea in pregnancy or labour or after Caesarean. Pressure can be applied with the thumbs or fingers, or a wristband can be worn; tiny press studs can also be taped to the point, which are almost unnoticeable. To find the P6 point measure three finger widths up the inside of the arm from the wrist crease - approximately where the buckle of a wristwatch might be. The point is found as a small dip between the tendons.
---
Acupuncture Explained
Published : 06/04/2022
An interesting study has emerged from Australia and New Zealand about the ways in which information is disseminated and practice is influenced for acupuncturists involved in women's health. Here Denise explores the wider implications of the findings.
Acupuncture is a very popular adjunct to women's health, notably in the areas of fertility and pregnancy. It is perhaps even more popular in Australasia than the UK and USA although acupuncture is one of the most well accepted of all complementary therapies. This may be due to the level of training required, which is almost exclusively at graduate and postgraduate level. It may be because acupuncture is better regarded by conventional medical practitioners than other, more supportive therapies such a massage, and indeed is used by some anaesthetists as a means of pain control. Acupuncture is also very well researched, although this study suggests that practice is defined less by the evidence and more by collaborative information-sharing from conferences and other educational opportunities.
Referrals for acupuncture prior to and during pregnancy generally come from prospective clients, with some from doctors. However, there is a need for much greater awareness amongst conventional healthcare professionals of the benefits and effectiveness of acupuncture.
Midwives and obstetricians in particular should be better informed about the potential of acupuncture to resolve issues such as subfertility, and severe pregnancy back pain, sickness or breech presentation. Dealing with these issues by offering acupuncture treatment would reduce the complications and associated cascade of intervention that they bring. This in turn would save money for the health services and improve parental satisfaction and wellbeing.
At the very least, midwives and obstetricians should receive an introduction to the concept, effectiveness and evidence base of acupuncture during their pre-registration education, to increase their awareness and understanding of the therapy. Further, for those midwives with a special interest, being able to introduce an acupuncture service into their practice or place of work would further facilitate an improvement in care for those expectant parents suffering prolonged and intractable pregnancy symptoms which can impact on the progress and enjoyment of their whole pregnancy.
---
Essential Oil Use In Midwifery Clinical Supervision
Published : 05/04/2022
Denise recently read an article in which the use of essential oils was debated as a possible adjunct to restorative clinical supervision by professional midwifery advocates (PMAs). The author, a midwifery lecturer, rightly addresses aromatherapy safety issues but concludes that NHS trusts could consider the use of diffusers to assist in boosting staff mental wellbeing, especially as part of restorative clinical supervision (RCS). Here Denise expresses some concerns about the concept.
Essential oils can be relaxing and ease the symptoms (but not the causes) of stress when used appropriately, but I have grave concerns about PMAs advocating the use of diffusers within RCS sessions. It is not the role of the PMA to address health issues of midwives, merely to recognise them and refer on to the relevant sources of help.
When midwives are trained to use essential oils for expectant and birthing parents, they learn only a minimal aspect of the vast profession of aromatherapy and do not have the knowledge or skills to help non-pregnant staff. Even using essential oils for relaxation needs to be done in accordance with a complete assessment of the intended recipient, acknowledgement of physiological allergies and psychological odour memory and preferences. Indeed, there could be an insurance issue here in the event of any untoward adverse reactions, not only of the individual midwife undergoing RCS but also any other midwife affected. Further, the use of diffusers in these RCS sessions contravenes the Health and Safety at Work Act 1974 and the Control of Substances Hazardous to Health regulations, which require employers and employees to minimise the risks of chemicals in the workplace. I find it worrying in the extreme that this message is not getting across to midwives and that the author suggests the need for research into diffuser use within RCS.
Research on effectiveness of any complementary therapy should be preceded by understanding fully the safety issues to ensure that aromatherapy in general, and specific oils in particular, are safe: no single oil is safe for everyone. Using oils in rooms which may later be used by other staff (or parents) risks exposing them to the risks of aromatherapy – in which case the NHS trust managers could be liable for any adverse effects on individuals by having permitted the oils to be used in this way.
---
O is for Orange Essential Oil
Published : 03/04/2022
O is for orange essential oil. Sweet orange oil and other citrus oils such as tangerine, mandarin, lime or grapefruit, are gentle oils to use in pregnancy, birth and the postnatal period. They're uplifting, good for emotional distress and effective for constipation.
Always check before use in case the mother or any other person present ( including the person administering it) has an allergy to citrus fruit - in which case it should be avoided.
---
N is for Natural Remedies
Published : 02/04/2022
N is for natural remedies, which should be used with extreme care in pregnancy. Just because they are natural does not mean they are always safe.
Many herbal remedies such as St John's wort, should be avoided in pregnancy and SJW should never used together with antidepressants. Homeopathic remedies don't act like drugs - they do not work chemically but work energetically (according to physics) and should also be used carefully - using the wrong remedy or using the right remedy for too long can cause an increase in symptoms rather than resolving them.
---
M is for Massage
Published : 01/04/2022
M is for massage, a simple tool for midwives and doulas to use during labour. The power of touch is enormous. Physically, massage can stimulate circulation and encourage the woman''s body to work efficiently. It can ease pain through the gate control mechanism - touch impulses reach the brain quicker than pain impulses. Emotionally, massage adds to the sense of nurturing that is so powerful during labour and birth.
---